About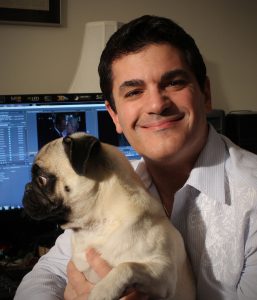 I was born and raised in an Italian-American neighborhood in the Bronx borough of New York City. My grandparents emigrated from Bari, Naples and Sicily. The family traditions and cuisine were primarily Barese though, as I was probably exposed the most to the extended family of my maternal grandmother.
As far back as I can remember, I always enjoyed drawing. My parents encouraged me in this and I learned early that I could earn money at it. Classmates actually paid me to draw on their notebooks and binders—mostly logos of rock bands or portraits of guitarists and such.
During my senior year in prep school I was bitten by the film bug. When an art studio class was cancelled since only two students applied I opted for a class called Intro to Film—thinking this would be an easy way to kill time and coast my way to an easy A. Little did I know how much it would change the direction of my life.
As an undergrad, I worked as a waiter, occasionally filled in as a bartender, and like all good film junkies, I served time at a video store (anyone remember those?). Literally upon graduation form college, I got a job as an apprentice editor for a company specializing in movie trailers. Before long, I was editing trailers on my own and writing the narration scripts.
While pursing a masters degree, I entered the world of stock footage where I held various positions, eventually managing the MGM, Warner Bros., and Columbia Pictures outtake collections. During this time, I wrote, studied, made a number of short films, and won several academic awards in both production and screenwriting categories. Once I had my masters degree, I had to figure out what the hell I was going to do with it, so a book on Alfred Hitchcock and his relationship with his screenwriters seemed appropriate, which ultimately led me to write about Alfred Hitchcock's four film collaboration with John Michael Hayes.
Since writing Writing with Hitchcock, I've lectured on screenwriting and film at NYU's Hitchcock Centennial Conference, The American Museum of the Moving Image, and Film Forum. I teach film and media studies courses at Mercy College in New York. 
I continue writing, both fiction and non-fiction. In 2004, I was a contributing writer to the 56th Annual Writers Guild of America Awards which aired on Starz/Encore. I've written a number of screenplays, including Lazarus, Adventures of a Hollywood Hero, I Think I Might Have Done This, Vanishing Point and Geronimus. I am currently at work on a biography of another Hollywood giant—details to come.
That's all for the moment, I'll let you know more as things develop.
Until then, peace.
Feel free to reach out concerning consultation work, presentations, or speaking engagements.