Sofia's Story
PARVO VIRUS AT WHITE PLAINS PET STORE
TOOK OUR LITTLE SOFIA
DON'T LET THIS HAPPEN TO YOU
On Friday, November 26, 2004 this eight-week-old female Malti-Bichon was purchased from the Rock A Buy Puppies location on Knollwood Road in White Plains (formerly Shake A Paw, they are now doing business as Rock A Buy Puppies - rockabuypuppies.com). She was so very loving, and after some family debating she was named "Sofia". (The debate continues as to whether she was called that after Sophia Loren or the Dean Martin song from the movie Kiss Me, Stupid, which is actually the case.)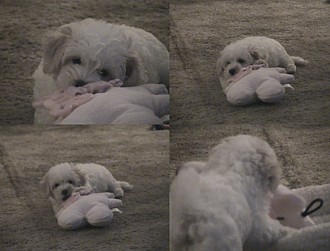 On Saturday Sofia seemed fine and energetic and playful, as the pictures above display. The following morning, Sunday, November 28, Sofia would not eat, and a while later vomited. She was not at all the same puppy as she was the day before. I called Rock A Buy (Shake A Paw) and explained what was happening. Later that day when Sofia vomited again, I brought her to the Veterinary Emergency Group in White Plains where she was examined by Dr. Susan Chun, and ultimately diagnosed as having Parvo virus. The puppy was immediately admitted for treatment, and left overnight to be transferred to Central Animal Hospital the following morning.
When I returned home from the Veterinary Emergency Group (it was after Rock A Buy had closed for the evening), I emailed them to make them aware that the puppy they sold to me just 48 hours prior was admitted and being treated for Parvo. Later that evening I received a reply from the store owner Nadia Pettignano:
"I'm shocked to hear that she was diagnosed with Parvo, since she has been vaccinated against it. Now, I know that when the puppy is vaccinated for it, it may test positive for the virus because it was vaccinated ... We have not seen the parvo virus in any puppy for several years now, so I do hope that it was tested positive because she was vaccinated for it."
The following morning, Monday, November 29, my puppy was brought to Central Animal Hospital, where Dr. Cheryl Gross continued treating her - antibiotics, IV fluids, etc. Central Animal Hospital also ran another test and confirmed that the puppy had Parvo.
In spite of the confirmation of this diagnosis, Rock A Buy still refused to believe Sofia had Parvo, stating that their vet doubted the puppy had it. They suggested that we bring the puppy back to the store for a refund or exchange. Their attitude - which would later be said in so many words - was that I only had the puppy for a day, so I couldn't possibly be attached to it.
The puppy continued treatment through Wednesday and seemed to be improving slightly - or maybe that was wishful thinking. By Thursday, December 2 Sofia had taken a turn for the worse. Her body temperature had dropped and she had severe diarrhea. She was clearly suffering now and she would moan at the slightest touch to her abdomen. The doctors at Central Animal Hospital agreed that she was losing the fight, and her tiny body could take no more. She died that evening.
Arrangements were made and the puppy that had been in my home for little more than thirty-six hours was cremated at Hartsdale Crematory. One Saturday she was playing in my home and the following I had her ashes.
When I returned to Rock A Buy the other day, after spending much of the week at the animal hospital caring for Sofia, I was shocked to see what appeared to be some of the same puppies that had been in the presence of the one I brought home there in the store, being handled by prospective customers. Had they not quarantined these puppies? Had they not treated or tested them? Several customers noted that they had been to other pet stores and these puppies seemed far less active and energetic than ones they had seen elsewhere.
In the end the expenses for treating my puppy were nearly four times what I had paid Rock A Buy (Shake A Paw) for her. Rock A Buy would only reimburse me for the purchase price of the pet. It was not about the money. But to be told in the end by the store owner, "Well, you only had it for a day." was just too much. Sofia was simply inventory to Rock A Buy Puppies and precious to us.
- The DeRosa Family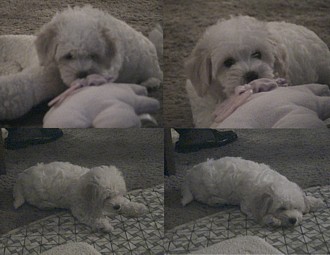 Sadly Sofia's story is a common one, and whether they're independently or franchised owned, a number of Shake A Paw pet stores in the NY/NJ area all have similar complaints against them. Below are more examples:
Companion Animal Protection Society Investigation of Shake A Paw
McKay's Fight - A story similar to Sofia's
Long Island Shake A Paw store selling puppies knowingly exposed to virus