Non-fiction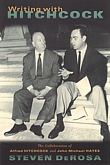 Writing with Hitchcock (Faber and Faber, 2001; second edition 2010)
The story of Alfred Hitchcock's collaboration with screenwriter John Michael Hayes which resulted in four of the director's most enduring and popular films—Rear Window, To Catch a Thief, The Trouble with Harry, and The Man Who Knew Too Much.

Hal Wallis: A Biography (work in progress; details to come)
The life story of Hollywood's most successful producer—the man behind such films as Casablanca, Dark Victory, Kings Row, The Rose Tattoo, True Grit, and more than a hundred others.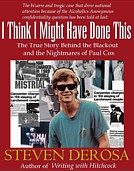 I Think I Might Have Done This (unpublished; on hold for legal reasons)
The tragic and bizarre story behind the Paul Cox case—a man's quest to find out whether or not he committed a double-homicide.
Screenplays
Lazarus
Bethania, 33AD. How would your life change if your good friend—who happens to be the son of God—brought you back from the dead? Think you know the whole story? You don't.
The Trouble with Hitchcock
The true story of Alfred Hitchcock's relationship with screenwriter John Michael Hayes—the director's most frequent writing collaborator in Hollywood.
Vanishing Point
Every forty seconds a child is reported missing. Some are runaways. Some are abducted. Others have simply vanished. An FBI agent must track down a woman who is contacting the parents of some recently missing children claiming to have messages from them. Is she involved in the disappearances? Is she a crackpot? Or does she truly possess the gift of second sight?
Adventures of a Hollywood Hero
Following America's entry into World War II, Jack, a reluctant draftee is thrust into a world of espionage when he is mistaken for writer who is actually a Nazi agent. Jack is forced to carry on dual-role of a hotshot movie writer and double-agent in order to smoke out a ring of spies operating in Hollywood.
Italian Wedding Soup
When Gisella, an immigrant waitress in an Italian restaurant, saves his sister's life, Paul rethinks everything that has gone wrong in his own and makes a series of drastic changes that lead him to a small Neopolitan village where he just may find true happiness—if he can overcome the complications of culture shock, a language barrier, and the reappearance of Gisella's estranged husband.
Fiction

The Great Tomato Adventure: A Story About Smart Safety Choices
(Duracell® and the National Center for Missing and Exploited Children®, 2007)
I was very pleased to contribute to Duracell/NCMEC's worthwhile Power of Parents project. This teachable moments guide is a valuable tool for parents in the guise of an entertaining, illustrated children's adventure. Illustrated by my very good friend James Uttel.
(For more info and to download an electronic version, visit the Power of Parents Online.)
Shorter works

Defining Big World in HD (HighDef Magazine, July-August 2009, Vol. 11, Iss. 4)
Cover story on filmmaker/cinematographer Tom Curran.
Manager
Ensemble Entertainment
280 South Beverly Dr. Ste. 402
Beverly Hills, CA 902121
Agent
Donadio and Olson, Inc.
121 West 27th Street, Suite 704
New York, NY 10001-6207